I have something special for you today! To celebrate the release of
Tin Swift
, Book 2 in the Age of Steam series, my fellow Deadline Dame,
Devon Monk
, has made some AWESOME steampunk bookmarks and she's written a short story set in the Age of Steam world. You can win some stuff (including a copy of
Tin Swift
and one of those awesome bookmarks) here and you can read the story for free! Here are the details:
"Hang Fire" is a steampunk short story set in late 1800's America. It takes place between the Age of Steam book #1, Dead Iron and book #2 Tin Swift. The story is broken into 20 "chapters" and posted, one chapter at a time, on 20 awesome blogs. To read the whole story, start at chapter 1 at Candace's Book Blog and follow the "read the next chapter" links at the end of the post.
I have the honor of posting chapter ten today of "HangFire." And it
is
an honor. Devon is an AMAZING writer, and she's also a good friend. I'm so thrilled for having been included in her blog tour, which, by the way, is one of the most inventive blog tours I've ever seen. I'm seriously jealous of her creativity.
...read chapter 9 at: Rabid Reads.



HANG FIRE - Chapter 10





The blast came from far above where Cedar Hunt and Mae Lindson lay in the pit.

"Rose," they both said at the same time.

Cedar quickly pushed to his feet, helping Mae do the same. He stared up at the narrow opening nearly two stories above them. This hadn't been some kind of hole dug for trapping animals–it was too deep. Nor was it an abandoned well–too large. It was most likely a mineshaft that had lost its roof.

Whatever it was, there didn't look to be any easy way out of it.

"Rose!" Cedar yelled to the young woman who he'd tried to save from the mechanical device before the forest floor had swallowed him whole.

In the tick of silence, wild thoughts pushed through his mind. Was she alive? Had his brother, Wil, found some way to save her? Had the explosion that shook the entire forest killed them both?

The Pawnee curse deep in his bones pushed at his reasonable mind, the beast wanting out. Wanting to kill. If Wil were dead, if Rose were dead....

No. Cedar held tightly to his sanity, to his humanity. Giving in to the beast would be easy, but it would do him no good. He needed a man's thoughts, a man's reason.

He needed to get himself and Mae out of this death trap.

"Rose!" Mae called. "Are you there? Rose?"

Nothing broke the silence except for Mae's stuttering breathing. She was afraid. Afraid Rose was dead.

A shadow crossed over the mouth of the pit, and Cedar suddenly realized he didn't know where his gun was.

A voice called out, "Mr. Hunt? Mrs. Lindson? Are you down there?"

Rose! She was alive.

"Yes," Cedar said. "We're fine. Are you all right?"

"As much as," she said.

"Wil?" he asked.

She hesitated. Rose wasn't the kind of girl who sweetened up bad news. They'd all seen plenty of pain living this far out west. Wasn't any kind of balm that words could give the truth.

Cedar's heart took to hammering at her silence. Was his brother dead? He couldn't lose him again so soon when he'd only just found him after all these years.

Finally, she said, "He's...he's been hit."
...read chapter 11 at: The Deadline Dames.
Now for the giveaway!
Who can enter:
This giveaway is US only. (But everyone can read the story!)
What you can win:
1. A magnet of the cover of TIN SWIFT
2. A hand-made by me (and my dear husband) one-of a kind, signed bookmark.
3. A copy of TIN SWIFT
How you can enter:
Fill out the form found
here
.
About Dead Iron
: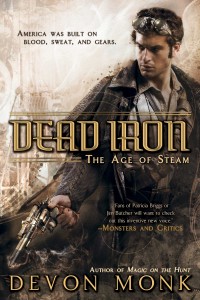 In steam age America, men, monsters, machines, and magic battle to claim the same scrap of earth and sky. In this chaos, one man must fight to hold on to what is left of his humanity…
Although the devisers have civilized the east with their contraptions, civilization hasn't tamed the frontier that bounty hunter Cedar Hunt rides. Cursed by lycanthropy and carrying the guilt of his brother's death, he's a hard man for hire. But when a trio of miners offers him the possibility that his brother may yet survive, Cedar isn't going to haggle for payment. All he has to do for them is find the Holder: a powerful device created by mad devisers from the realm of the Strange.
The Holder is in the hands of Shard Lefel, a dandified railroad tycoon who's come to Hallelujah, Oregon, promising a civilized tomorrow. But what Cedar cannot know is that Lefel is an ancient Strange banished to walk this land for centuries. Now nearing the end of his sentence, Lefel is desperately searching for a way to fend off his own mortality—and the Holder may be the key.
In a land shaped by magic, steam, and iron, where the only thing a man can count on is his guns, gears, and grit, Cedar will have to depend on all three if he's going to save his brother and reclaim his soul once and for all….
About Tin Swift:

In steam age America, men, monsters, machines, and magic battle to claim the same scrap of earth and sky. In this chaos, one man fights to hold on to his humanity—and his honor…
Life on the frontier is full of deceit and danger, but bounty hunter Cedar Hunt is a man whose word is his bond. Cursed with becoming a beast every full moon, Cedar once believed his destiny was to be alone. But now, Cedar finds himself saddled with a group of refugees, including the brother he thought he lost.
Keeping his companions alive is proving to be no easy task, in part because of a promise he made to the unpredictable Madder brothers—three miners who know the secret mechanisms of the Strange. To fulfill his pledge, Cedar must hunt for a powerful weapon known as the Holder—a search that takes him deep into the savage underbelly of the young country and high into the killing glim-field skies defended by desperate men and deadly ships.
But the battles he faces are just a hint of a growing war stirring the country. To keep his word, Cedar must navigate betrayal, lies, and treacherous alliances…and risk everything to save the lives of those he has come to hold dear.
About Devon Monk:
Devon Monk spent her early childhood tucked behind couches or any other place with low light, "ruining her eyes" and reading. Her love of fairytales turned into a love of adventure, magic, future science, romance, mystery, humor, noir, and anything else she could get her hands on.

Devon has sold over fifty short stories to fantasy, science fiction, horror, humor, and young adult magazines and anthologies. Her stories have been published in five countries and included in a Year's Best Fantasy anthology. In 2010, Fairwood Press published twenty-two of her short stories in a collection titled: A Cup of Normal.

She is currently writing two series. The Allie Beckstrom books (Magic to the Bone, Magic in the Blood, Magic in the Shadows, Magic on the Storm, Magic at the Gate, Magic on the Hunt) are urban fantasy set in modern-day Portland, Oregon where magic is the new technology. The Age of Steam books (Dead Iron) are steampunk set in the 1800′s American West.

Devon has one husband, two sons, and a dog named Mojo. She lives in Oregon and is surrounded by colorful and numerous family members who mostly live within dinner-calling distance of each other. When not writing, Devon is knitting strange things, remodeling the house-that-was-once-a-barn, or hosting a family celebration.